Did you know that there is a very popular shaved ice shop tucked away in the streets of Ryogoku, typically with a long line of customers? Kohiru-an has a reputation as a shaved ice shop with an amazing variety of unique and tasty flavors. This shop has a steady stream of fans. We tried to find out the secret of why so many people come to this shaved ice shop to cool off during the hot season and even in winter.
Before visiting
Access and entrance to the restaurant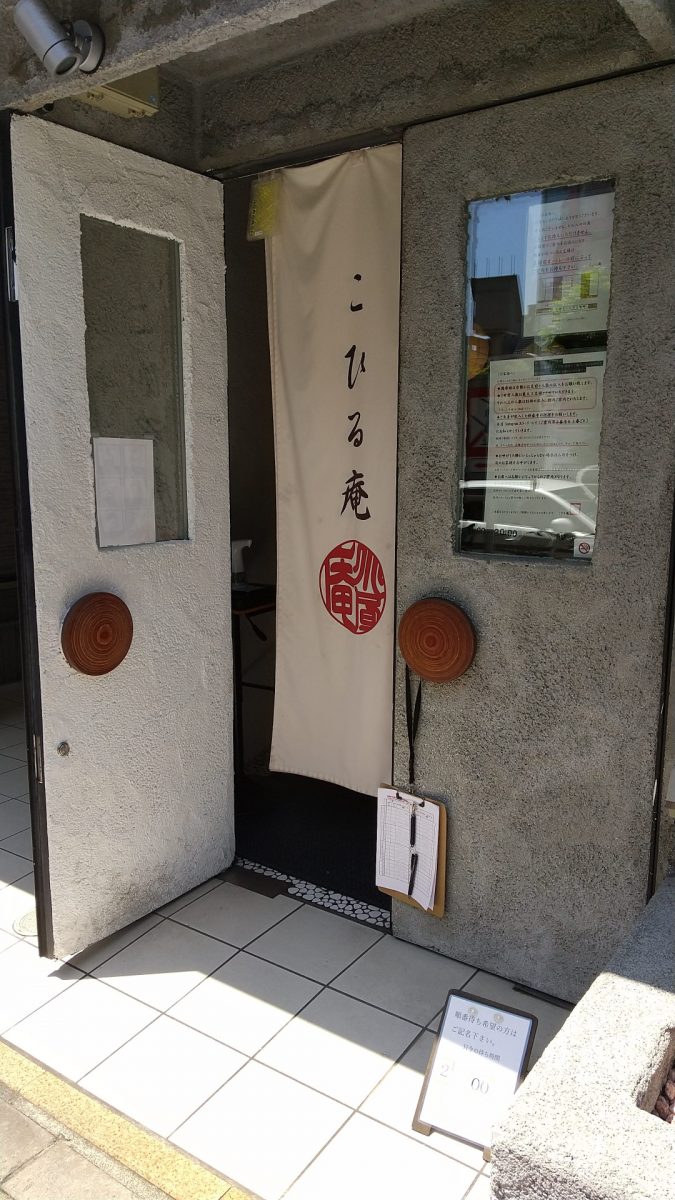 Kohiru-an is a small restaurant that just opened in July 2019. It is a 7-minute walk from The Gate Hotel Ryogoku, and if you come by train, it is a 3-minute walk from the West Exit of Ryogoku Station on the JR Sobu Line or a 7-minute walk from Exit A5 of Ryogoku Station on the Toei Oedo Line. The simple appearance of the restaurant makes it easy to pass by on foot, but it is like a secret hideout, adding to the excitement of entering the restaurant.
To enter the restaurant
To prevent overcrowding, the current system is to write your name in the ledger hanging on the door of the restaurant, receive a number, and as soon as the restaurant opens at 11:00 AM, you will be seated in order. You will be able to see the number for the people that have already been seated, 5 at a time, on their Instagram story.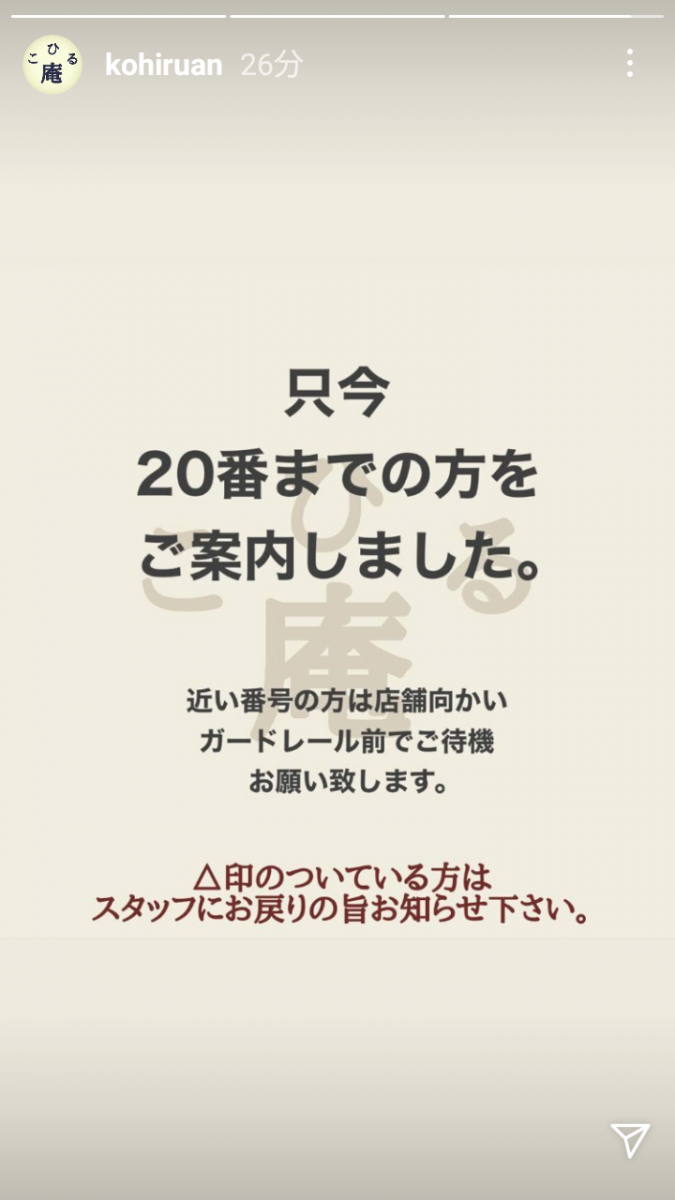 The Gate Hotel Ryogoku is just a short walk away, so if you are staying at the hotel, it's recommended that you do your best early in the morning to register your number, and then simply wait at the hotel and go to the store when your turn approaches.
Incidentally, I visited on a weekday in June 2021 at around 9:45 a.m. I was the 15th person to enter the restaurant, and it was around 12:00 p.m. At that time, there was a sign in front of the restaurant that said "It's currently a 2-hour and 30-minute wait!" I heard that even if you don't fill out the ledger, you may be able to enter the restaurant when it is open, but if it is summer, the ledger entry sometimes fills up fast and may close sooner than you think.
Once you visit, you will be captivated by their fluffy shaved ice!
Shaved ice variations that you can enjoy no matter how many times you come!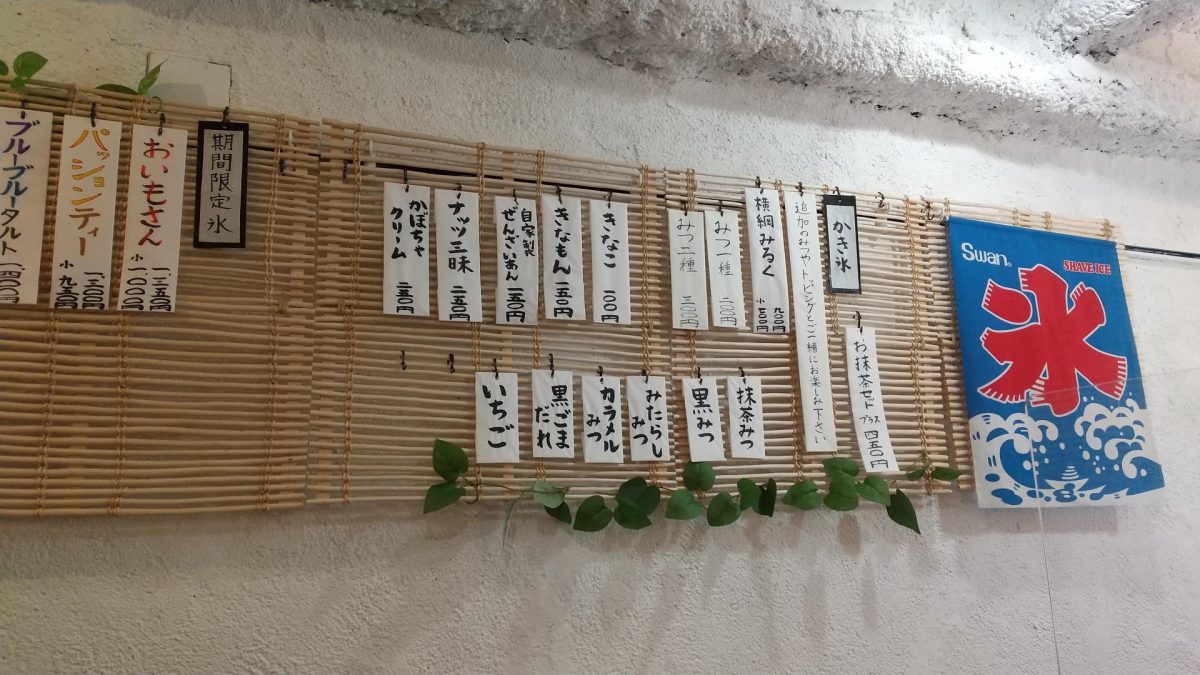 The restaurant is small, so I refrained from taking pictures of the seats due to the presence of other customers, but there are four counter seats and two tables for two people, all of which are neatly partitioned to prevent infection.
This time, I ordered the signature yokozuna milk with pumpkin cream as a topping. There are many other kinds of mitsu (syrup) and toppings to try, such as kinako (soybean flour), kuromitsu (black honey), black sesame sauce, and strawberries.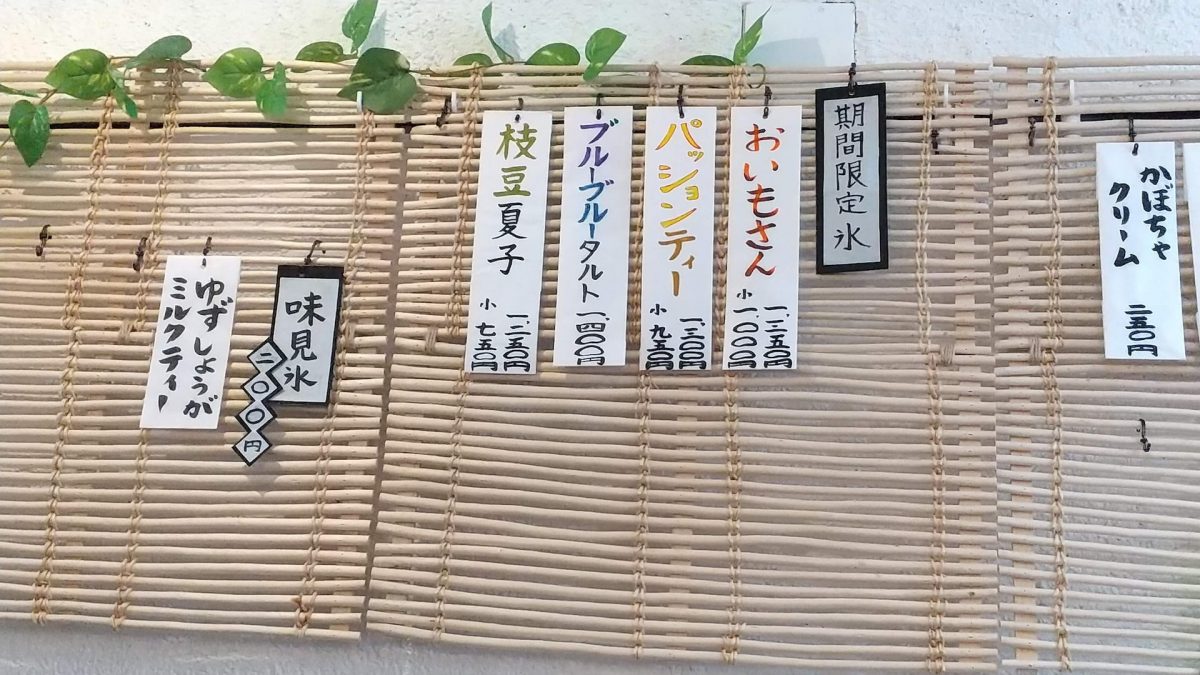 There are also many limited-time-only menu items, and next time I would like to try the refreshing passion tea and the summery edamame natsuko with zunda cream and mini-tomatoes on it. Incidentally, there is also a menu item called the sample shaved ice set perfect for those who want to enjoy several flavors. (The limited-time-only shaved ice changes every two to three weeks, so the menu may differ from the one pictured when you visit the restaurant.)
We had yokozuna milk which is unique to Ryogoku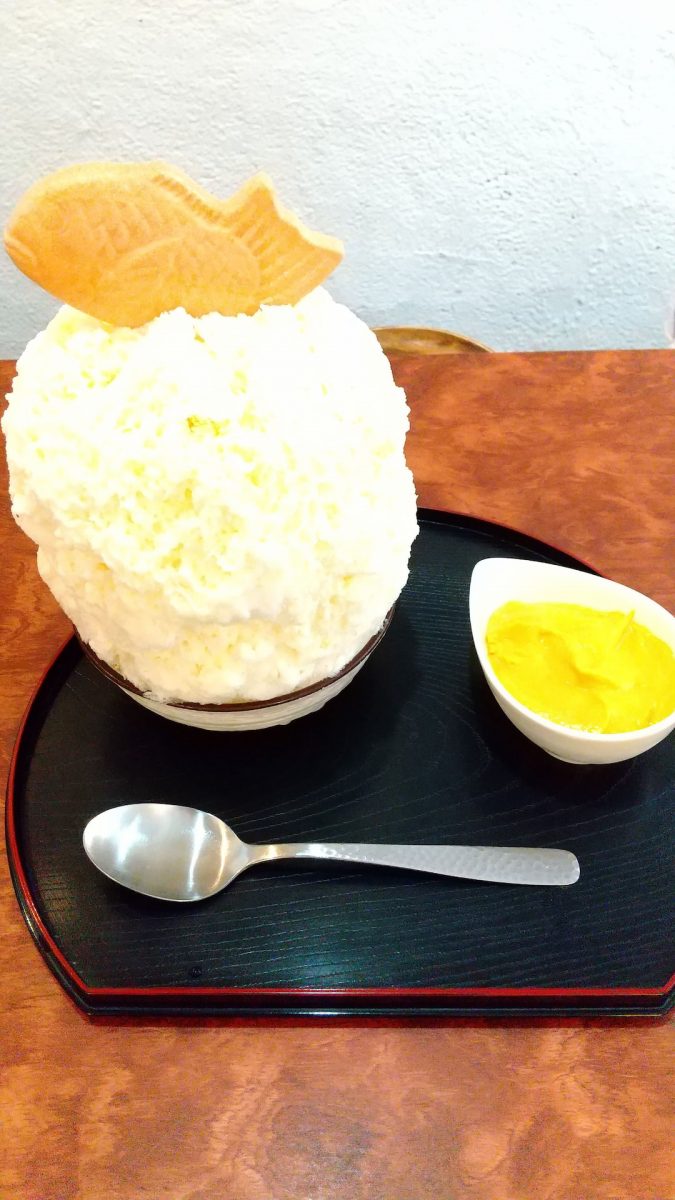 Now, here is the yokozuna milk shaved ice that I had longed for. It is like golden shaved ice! The finely shaved ice is covered with a generous amount of milk and topped with gold leaf and a single-sided sea bream monaka.
When the shaved ice is served, the waitress wishes you a "happy birthday…" to share a bit of joy and interaction with you.
There are two sizes available, regular and small, but I chose the regular size. As you can see in the picture, it was rather large, which made me a little nervous because I am not good at eating a lot of shaved ice, but that anxiety disappeared as soon as I started eating.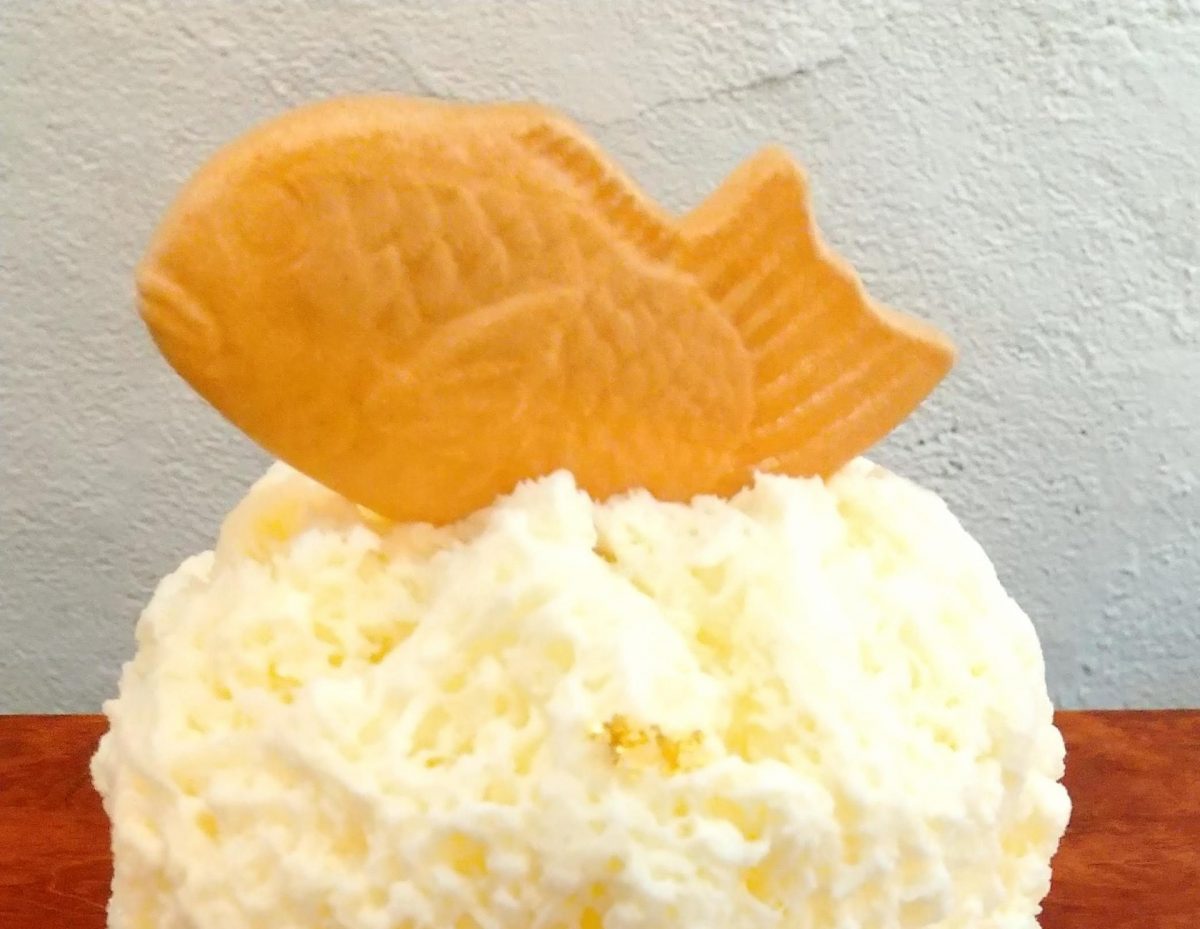 The shaved ice was soft and fluffy and melted easily in my mouth, so even though it was sweet, it was not at all bland. One bite, and then another, and another, and another. And yet, it is not so brittle that it melts away quickly, so you are not rushed to eat it. Moreover, the milk flavor permeates all the way to the bottom, so you can enjoy it all the way to the end. The pumpkin cream, which was served separately, was also very rich and crunchy and brought me a moment of bliss.
We finished our meal before we realized it, and we quickly understood why the number of fans is increasing.
The door to the restaurant is left open, and hot tea is available at each table for free refills, so you can proceed with your meal without worrying about getting too cold.
The shop offers a wide variety of tempting flavors regardless of the season, so visit them and enjoy them for yourself.
SHOP DATA
Kohiru-an
| | |
| --- | --- |
| Address | PAZ Ryogoku 1F, 2-17-19 Ryogoku, Sumida-ku, Tokyo 130-0026 |
| TEL | For inquiries, please send them a message on Instagram. |
| Business hours | 11:00 – 20:00 (L.O. 19:00) |
| Closed | Tuesdays + irregular holidays |
*For the latest information on business hours, holidays, etc., please contact the store directly.