Hirota Glass Co., Ltd. is a historic Japanese glass manufacturer founded in 1899. The Sumida Japanese Glass Museum was established as an exhibition room to display valuable glass products and materials of Tokyo and Japanese glass, which have been stored by this company since its establishment. Visitors are sure to be captivated by the colorful and beautiful Japanese glassware inspired by designs from the Taisho and Showa periods. Discover glass products that have a warmth that can only a craftsman can create.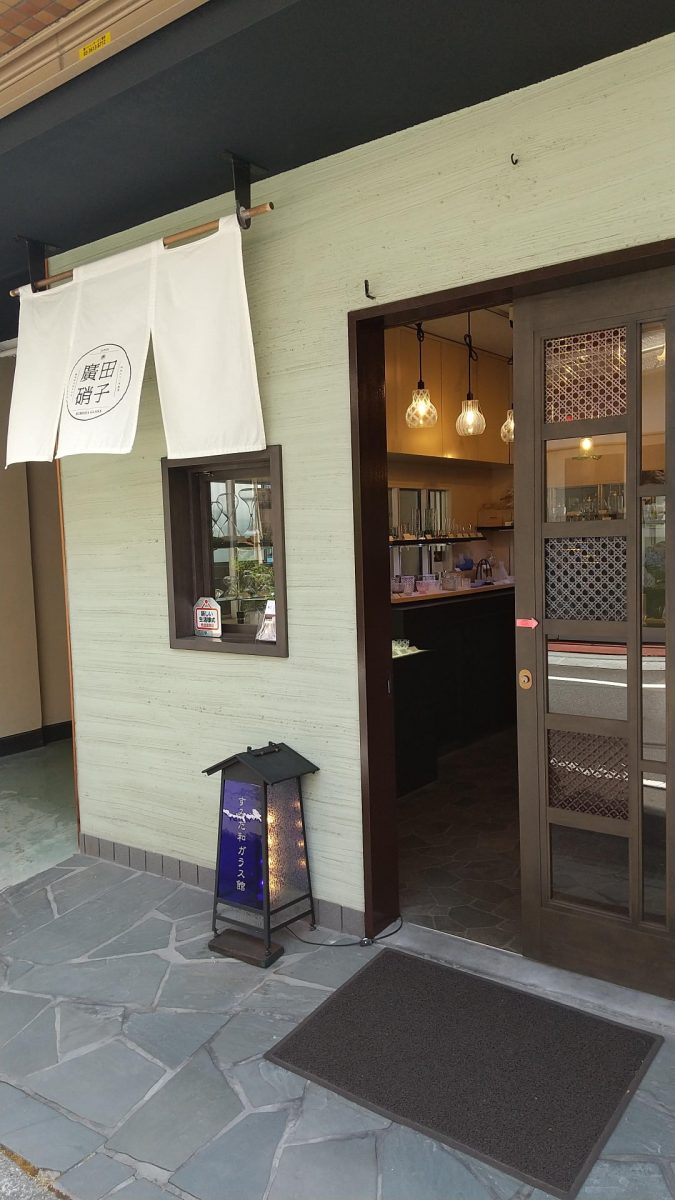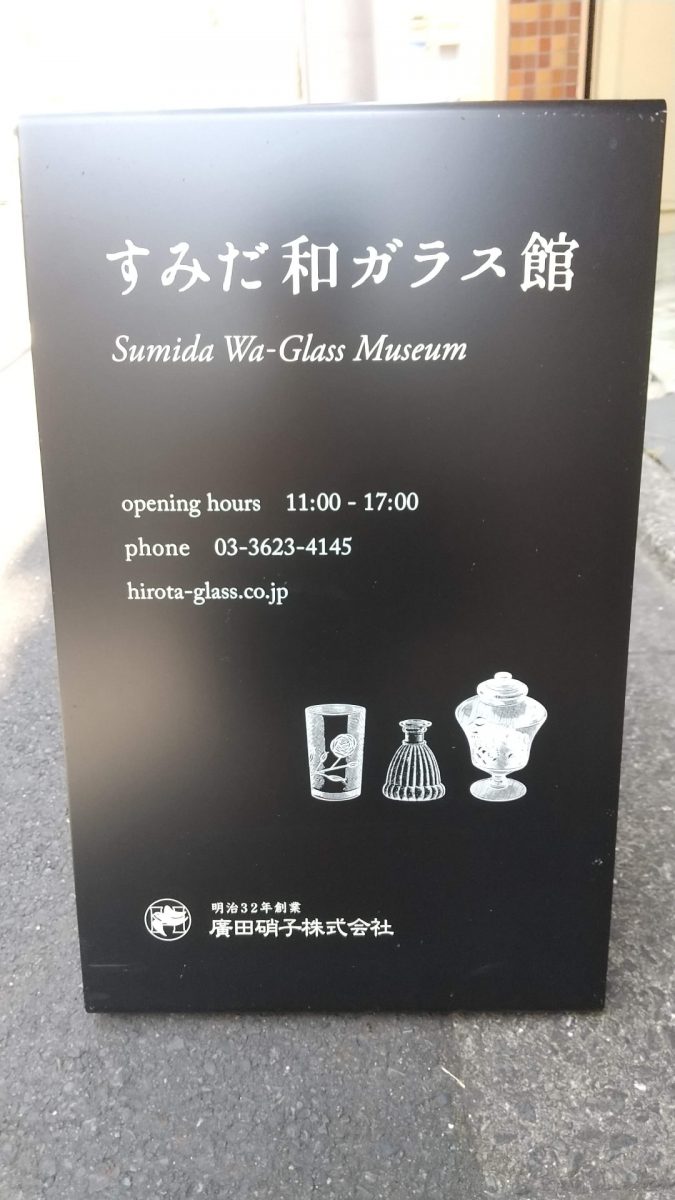 Glass Manufacturing and Hirota Glass since the Edo Period
The history of glass manufacturing in Japan dates back to the Edo period. In the Meiji era (1868-1912), glass makers such as Hirota Glass began to appear one after another in downtown Tokyo, giving birth to Japanese glass, a fusion of glass materials from the West and a uniquely Japanese aesthetic.
Hirota Glass started out selling glass lamps in Tamachi, Tokyo in 1899, and later moved to Nishikito, Sumida-ku, Tokyo in the Taisho era (1912-1926), where they devoted themselves to the development of the glass industry. And even today, the company continues to research techniques and designs from the Taisho and Showa periods based on the materials in its collection since its founding, and continues to challenge itself to create its own unique Japanese glass. After World War II, mass production of glass became the mainstream, but with the desire to with a special charm, they have consistently produced glass products by hand, valuing the traditional manufacturing methods of Edo Kiriko and Edo glass craftsmen that have been handed down in Sumida.
About Sumida Japanese Glass Museum
The Sumida Japanese Glass Museum consists of Hirota Glass's directly-managed store, a museum, and a laboratory where visitors can experience Japanese glass processing methods.
On the first floor is the only directly managed store in Japan that offers a wide variety of Hirota Glass products. On the 3rd floor is the Japanese Glass Museum, which reopened in the spring of 2022 with a variety of retro tableware that Hirota Glass has sold since the 1930s and materials related to Japanese glass products.
In the Japanese Glass Laboratory on the 4th floor, workshops, where visitors can experience glass processing, are held on an irregular basis.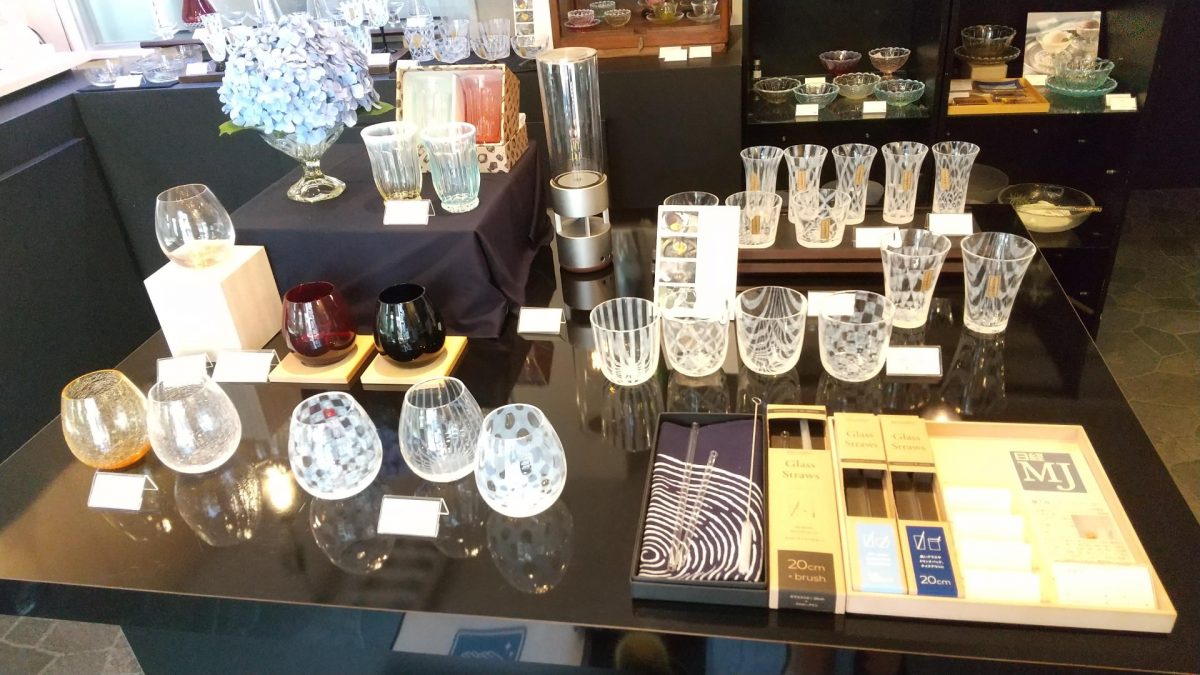 Introduction of Hirota Glass, which is rich in individuality
Hanarei-karai series
This series is characterized by its cute, rounded shape that resembles a flower bud, and its narrowed drinking cups. 16 types in all, with various artistic expressions depending on technique, color, and material. The series has become a representative of Hirota Glass, winning the Best of Golden Pin Design Award in 2017 and German Design Winner in 2019.
Taisho Roman Glass uses the aburidashi technique of milky white glass to delicately create various patterns with craftsmanship.
The Kanshitsu is like the glaze on ceramics. The cracked pattern is cool and sparkles when tilted under the light.
Arare Series
Many of the tableware pieces have subdued and elegant colors that look good in photographs even with clear colors that would pair well with desserts and fruits.
The beautiful design with large and small dots is an ancient Japanese pattern that is often seen in traditional Japanese crafts such as textiles other than glass.
Bamboo Series
This series comes in various heights and can be said to be a series unique to Japanese glass.
The beautiful bamboo motif of this glassware makes you feel as if you are in a bamboo grove and your body and mind are being washed away. The unusual shape of this glassware makes it a classy addition to any banquet table.
Taisho Roman glass technique
The Taisho Roman glass technique, which was introduced in the Karai series, is also used in many other glassware pieces such as tumblers, buckwheat cups, and wine glasses, in a variety of patterns. When glass containing the special ingredient bone ash is used and subjected to a sudden temperature difference, it develops a mysterious milky white (opalescent) color. This is a traditional craft that makes use of this property to create various patterns.
A lineup of Taisho Roman glass products reproduced in various shapes and sizes
Rich variations of Taisho Roman glass patterns
Glass straws made in Japan
Two different lengths to choose from and a set with a brush for cleaning are also available
These Japanese glass straws are connected to SDGs, a hot topic today. Glass is now attracting attention as an alternative to plastic straws, but because of its clarity and simplicity, glass fits many containers and cups and does not soak up odors or dyes. It is more than just an attractive material that can be washed and used repeatedly, it is the best material for the job. Each one is carefully handcrafted by craftsmen, and the mouth is shaped like a trumpet to make it easy to drink.
The original suriguchi soy sauce jug
The shape of this soy sauce jug, which is now common, was actually developed by Hirota Glass in 1976 originally. It is a masterpiece that has been permanently preserved in the National Museum of Modern Art, Tokyo.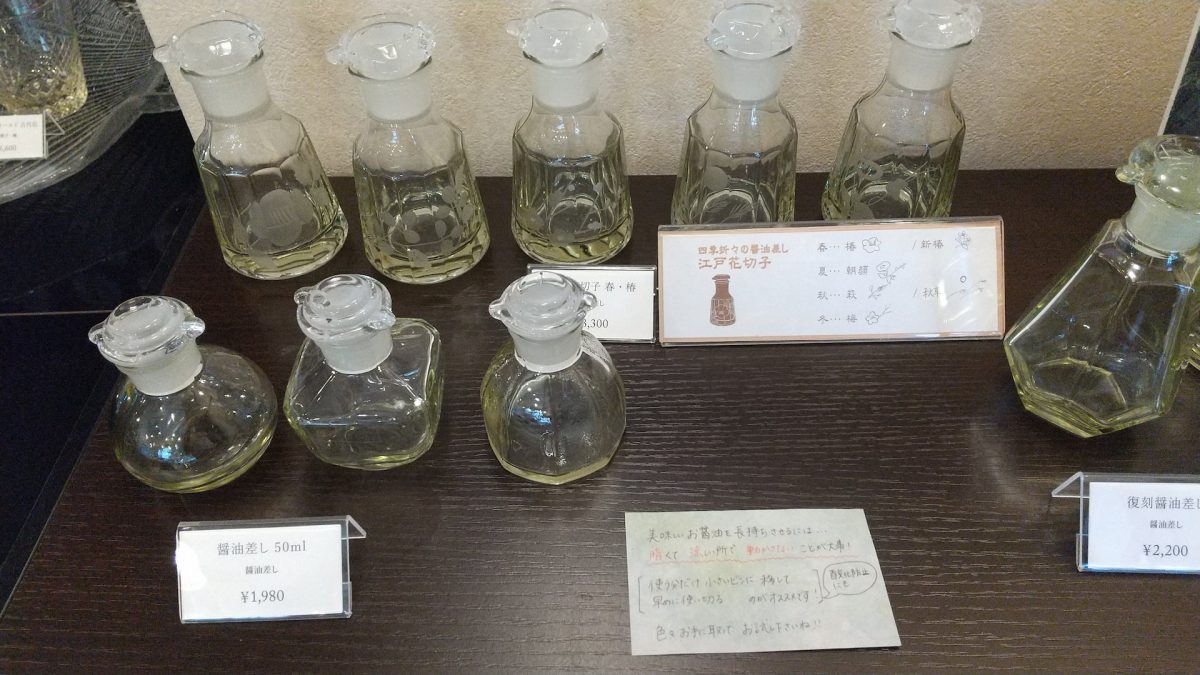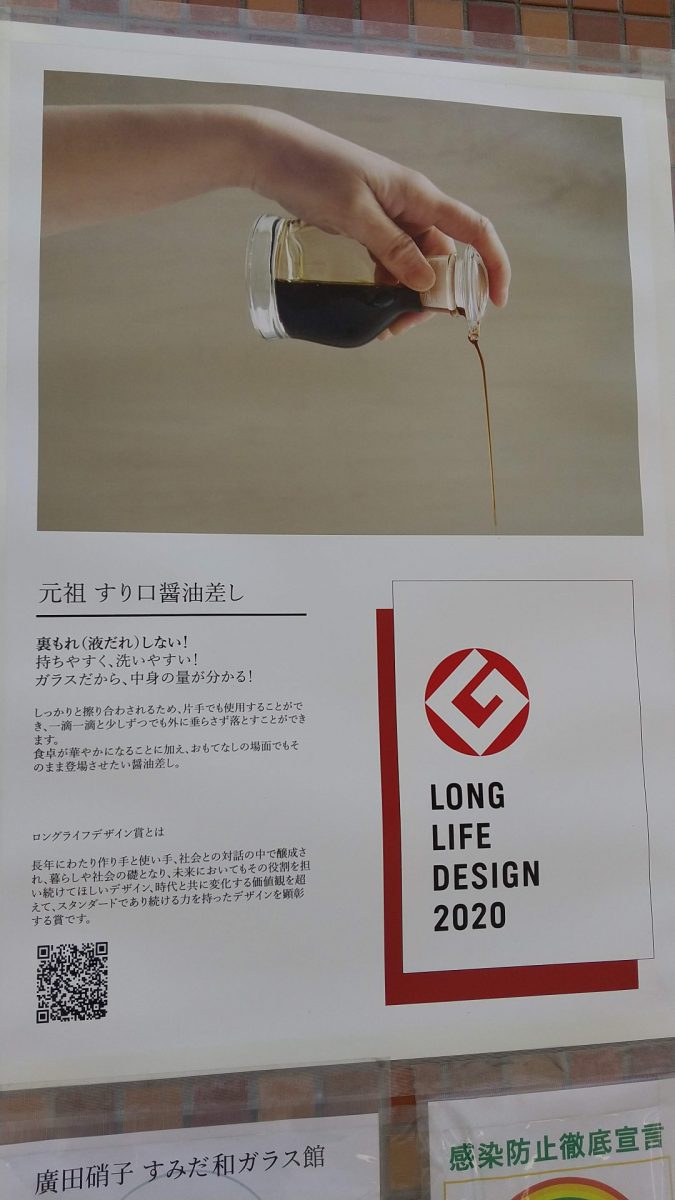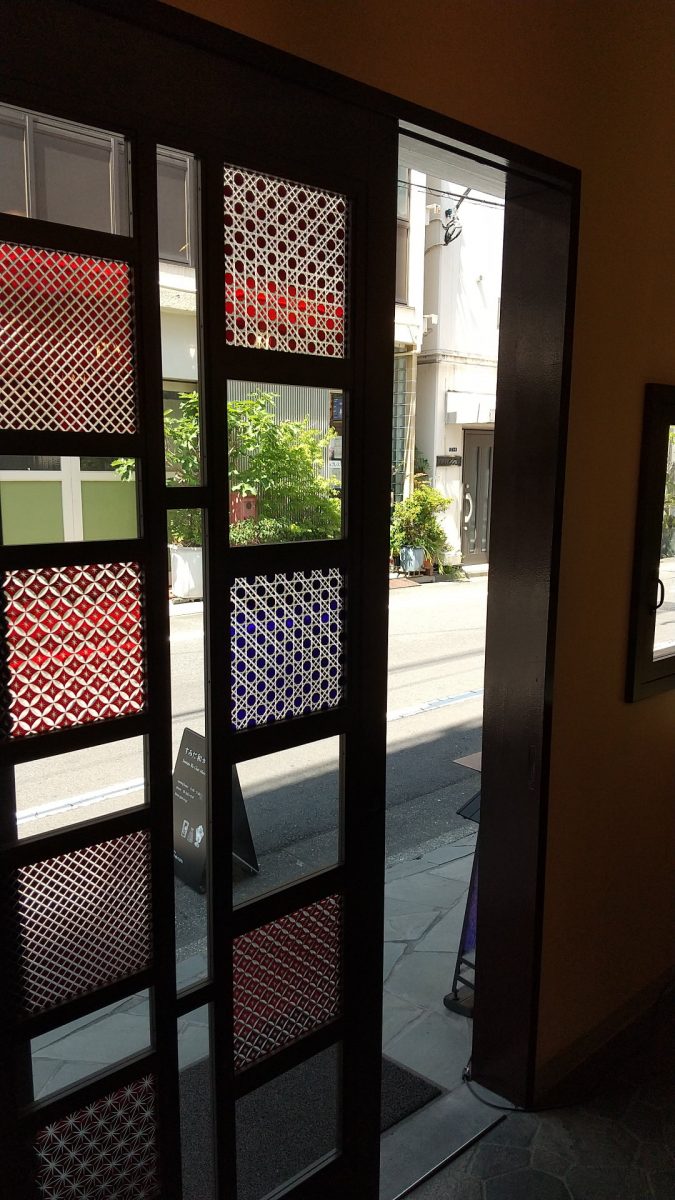 On the sliding door at the entrance is an Edo faceted glass plate with a typical pattern. (Edo faceted glass is a traditional craft with a history of more than 150 years.) It is as beautiful as stained glass.
There are still many other glassware products that are too enchanting to introduce. Experience the texture, beautiful patterns, and charm of handmade glassware firsthand.
From The Gate Hotel Ryogoku, take the JR Sobu Line from Ryogoku Station to Kinshicho Station and get off at Kinshicho Station. It's four minute walk from the North Exit.
SHOP DATA
| | |
| --- | --- |
| Address | 2-6-5 Nishikito, Sumida-ku, Tokyo 130-0013 |
| TEL | 03-3623-4145 |
| Hours of operation | 11:00-17:00 |
| Closed | Closed on Sundays, Mondays, national holidays, summer and New Year holidays |
*For the latest information on hours of operation, holidays, etc., please contact the facility directly.